My newest kit,
Newsworthy
is in the store! Hope you like this one . . . the style is kind of a new one for me!
Newsworthy
, by DreamScrapper, is a unique page kit that is a little bit funky, a little bit grungy, yet can still hold its own with classic heritage kits! As well as being suitable for heritage pages, it contains elements that lend themselves to embellishing autumn layouts. The jewel tones of the saffron, indigo and teal textured solid papers contrast well with the aged and grungy newsprint found in the 8 papers of this kit. Included in the 8 papers is one special paper that stitches together curled-edge newsprint with a textured paper. Papers are created at 12" by 12" at 300ppi and saved as high-quality jpg files ensuring excellent print quality. Contained in "Newsworthy" you will find 1 double bow, 1 string bow, 2 flourishes touched with newsprint, 4 leaves with touches of newsprint, 1 unique newsprint flower, an inked-edge overlay, 1 fall cluster, 1 elaborate metal frame, 1 textured newsprint ribbon, and 1 string ribbon. Completing this page kit is a stylish, two-inch alpha with copper edging. Alpha has a complete upper and lowercase set, numerals 0 to 9, as well as 10 other punctuation marks. Alpha is provided as individual letters so you may open only those that you need. All elements are created at 300ppi and saved as png files to preserve transparency. Drop shadows are applied only where layering of pieces makes shadowing necessary for realism. Thank you to Tandika Star and DigiScrapDesigner for items used in the creation of this product. Special thanks to Atomic Cupcake and Monica Larsen.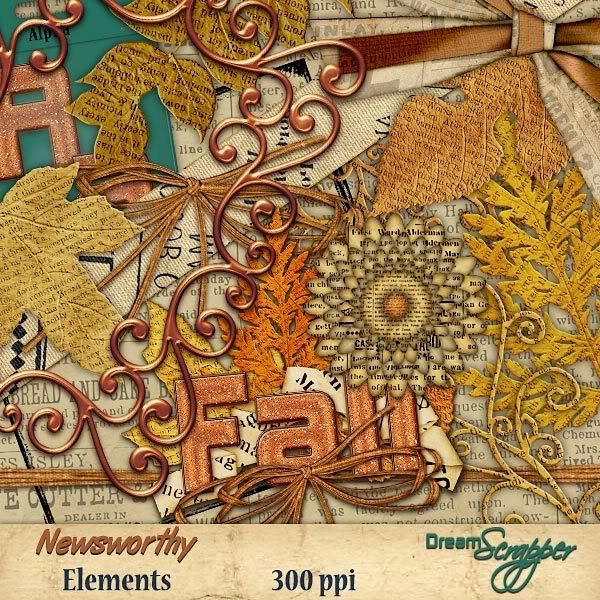 I also created a second alpha that coordinates with this kit. You can download this FREEBIE by clicking on the image below.
__________________